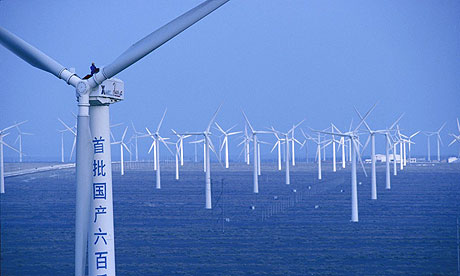 In the midst of sovereign debt crises and sweltering heat waves, it'd be easy to miss the legislative accomplishments happening around the world to promote clean energy. Citing roller-coaster energy prices and growing pollution, individual governments have acted to curb their emissions even while international negotiations on climate policy have stumbled.
Japan is the latest country set to pass legislation creating "explosive growth" in renewable energy sources. The embattled Japanese Prime Minister has asked his Parliament to pass three pieces of legislation before he agrees to resign, with the largest legislative project focusing on clean energy. According to Energy Digital, "the legislation calls for installed renewable energy capacity to rise by at least 20 percent of the country's total power by the early 2020s."
China is the most surprising leader in the field. In July, administration officials announced the start of a carbon pricing policy to take full effect by 2015, reducing carbon dioxide per unit of GDP by 40 percent by the end of 2020. China already invests about  $51 billion into clean energy subsidies — roughly one-fourth of the world total.
Brazil is currently working out how to implement the legislation it passed last year committing itself to binding emissions targets. And in India, Power Engineering Magazine reports that Tata Power Company — India's largest private utility — will increase its renewable energy supply eightfold over the next five years.
The next country to watch: Australia. The debate is raging over whether to pass a national carbon pricing scheme.